Known for their amazing speed, these Marshallese Outrigger (called rewuits by the locals) rewuits can cross a 5 mile lagoon in just 15-20 minutes! And with an amazing ability to stay on course as they don't use any remote control or other self control.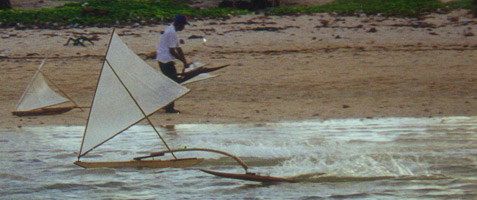 Marshallese Outrigger in full speed
Majuro, capital of the Republic of Marshall Island, rests on the tip of a 10,000 feet tall limestone spire of a reef caused by some volcanic eruption thousands of years ago. In one of its windward bays is home to famous sailing competitions for model Marshallese Outriggers or what locals refer to as "rewuits". Annual races are held for these model sailboats that are fashioned after the traditional Marshallese Outrigger.
Their unique architecture includes an asymmetrical hull that allows the sailboat to sail right into the direction of the wind. It outrigger is a shock absorption system which improves the boat's glide and efficiency and at the same time, maximizes the strength that can be taken from a gust of wind. On an ideal day for sailing when the tide is high and winds are stronger, locals and even government leaders enjoy an afternoon of sailing with their rewuits by the bay. When properly set up, these rewuits sail on a straight line relative to the wind. It is self steering in a sense that when waves hit or knock it, it instantly corrects course. No matter the enormous speeds that these rewuits display, they still stay on the course as provided by the hull and outrigger innovation that balances the sailboat no matter the direction of the wind.
This impressive sailboat design was fashioned by early Marshall Islanders for easy and fast navigation in the atoll thousands of years ago. They were made in such precision that a small canoe seating a maximum of two people requires communal effort for 8 months.
Here is a site on the background of the Marshallese Outrigger and on the bottom a link to the free model sailboat plans with detailed description on the parts of the Winner of the 'Marshall Islands Independence Day Race 2000'